Complete and versatile programme of solid carbide end mills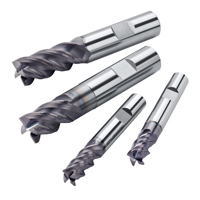 The demands of today's metal cutting world has ensured that advances in materials, coatings and geometry of end mills designed for specialist applications such as hard material milling surpasses not just the performance levels of the recent past, but the expectations of the engineers at the sharp end of production.
It is this high end technology that also benefits the sector of tools entitled "for general applications" by passing on the successful high end features. The wording "general" is somewhat a dis-service to tools that fall under this category because most applications, with the exception of a small percentage of specialist needs, are very successfully machined with tools such as those from the MSTAR range. Furthermore, the technology now inherent in these end mills allows them to remain in the tool magazine and be used for many consecutive and differing jobs.
The MSTAR series contains around 40 different types in a vast range of diameters. The Miracle based coating technology coupled with a reliable micro-grain carbide substrate used across the whole range provides outstanding tool life, is highly resistant to chipping and gives the performance needed for high production levels.
The latest additions to the programme are 2 anti-vibration types, in short and medium cutting lengths. The flutes are a varied pitch and the spiral angles also differ at 42 degrees and 45 degrees to further benefit the reduction of vibration during machining. The 2 types, MSSHV and MSMHV are capable of full width slotting and incorporate a larger than standard pocket on the end face to facilitate quicker chip removal. Both are available in diameters 6 ~ 20mm and are suitable for carbon, alloy and stainless steels through to difficult to cut materials.
Tags
Mitsubishi, inserts, tooling, end mills
---
Return to Latest News